Providing Services for the Whole Family
At Linn Family Dental, we provide the following general services for all ages—exams, cleanings, X-rays, and oral cancer screenings. During the exam, we check for signs of gum disease, tooth decay, and other conditions. If a problem is discovered, our dentist will discuss all available options for care.
Cosmetic procedures such as fillings, crowns, bridges, root canals, and bonding are some of the more common services available under general dentistry.
At the Practice
If patients haven't had X-rays in some time, our dentist may request a new set to see what changes have occurred since the last visit. Together with the patient, they'll review the test results, indicating any problem areas. All care options will be discussed in detail, and the patient will receive a copy of their plan with cost estimates included. The decision to continue care is always up to you.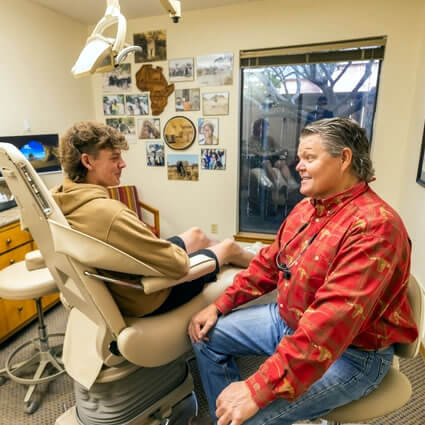 Maintaining Good Oral Health
Here are some ways to help maintain good oral health
Brush twice daily, morning and night, with a fluoride toothpaste.
Floss daily. Floss reaches the surface a toothbrush can't. Without flossing, about 40% of the tooth surface may be missed.
Drink plenty of water throughout the day, especially after eating, to help wash away any
residue on the teeth.
Avoid or limit consuming high sugar foods/drinks.
Time for A Checkup?
If it's been more than six months since your last visit, schedule a family checkup at Linn Family Dental, to ensure everyone's teeth and gums are in good shape. Contact us today; we're here for you.
CONTACT US »

General Dentistry Abilene TX | (325) 691-1440